Joint Accreditation for Interprofessional Continuing Education offers organizations the opportunity to be simultaneously accredited to provide continuing education for multiple health professions through a single, unified application process, fee structure and set of accreditation standards. The National Center Office of Interprofessional Continuing Professional Development currently offers simultaneous accreditation for medicine, nursing, pharmacy and social work.
In 2021, the National Center for Interprofessional Practice and Education was awarded Joint Accreditation with Commendation as a provider of continuing education for the interprofessional team by the governing bodies of the Accreditation Council for Continuing Medical Education (ACCME), the Accreditation Council for Pharmacy Education (ACPE) and the American Nurses Credentialing Center's Accreditation Program (ANCC).
The National Center received a six-year reaccreditation because of its demonstration of exemplary performance and commitment to developing and implementing student and patient-engaged and evidence-based programming. Joint Accreditation awards Accreditation with Commendation to recognize and celebrate organizations that excel as continuing education providers.
In receiving the recognition, the National Center OICPD complied with all standard criteria and newly adopted criteria, including efforts to: 
Engage patients and students as planners and teachers
Address factors beyond clinical care, such as social determinants of health, that affect the health of patients
Collaborate with organizations to address population health issues
Optimize communication skills of learners
Create opportunities for learners to develop individualized learning plans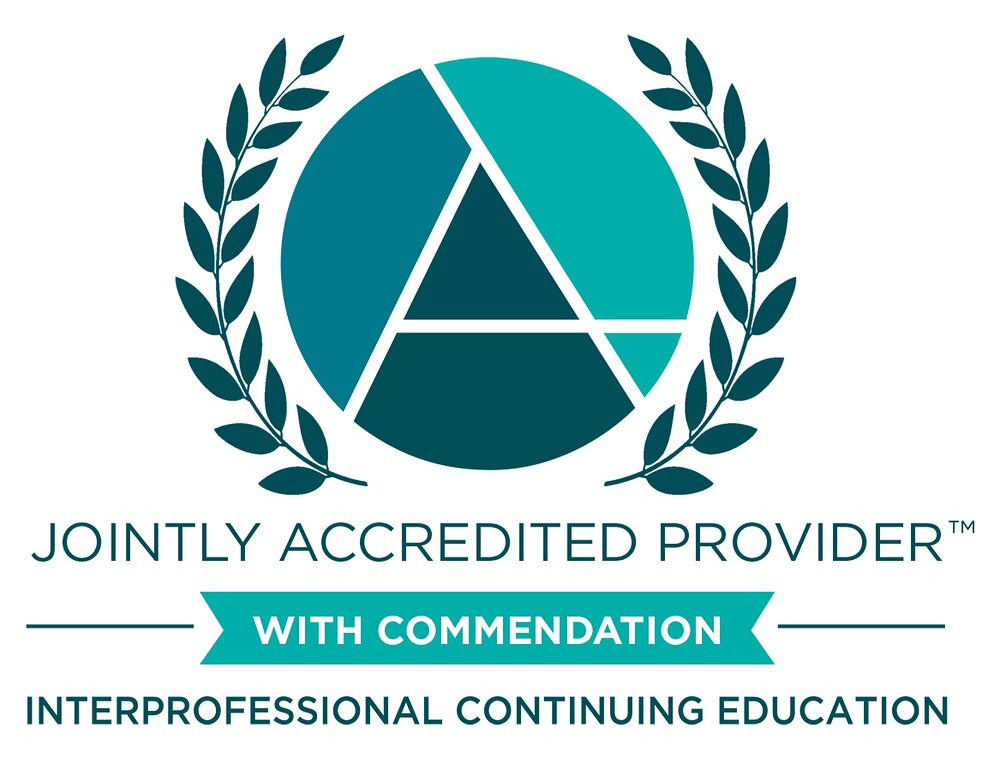 By awarding the National Center with this honor, Joint Accreditation has demonstrated that the National Center is a learning organization that provides relevant, interprofessional, practice-based continuing education that positively impacts health across the country. 
What is Interprofessional Continuing Education?
Interprofessional continuing education (IPCE) is when members from two or more professions learn with, from, and about each other to enable effective collaboration and improve health outcomes (ACCME, ACPE, ANCC 2015).
Continuing Education Planned by the Team for the Team
According to the World Health Organization (WHO), interprofessional education (IPE) is an action that "occurs when students from two or more professions learn about, from, and with each other to enable effective collaboration and improve health outcomes" (WHO, 2010). IPE is designed to address the professional practice gaps of the healthcare team using an educational planning process that reflects input from the professionals who make up the team. The education is designed to change the skills/strategy, performance, or patient outcomes of the healthcare team.
Joint Accreditation™ enables IPE by aligning the accrediting systems of three global leaders so organizations that choose to develop education for the healthcare team can satisfy all accreditation requirements via a single, unified application process, eligibility criteria, and fee structure.
Planning Team for Interprofessional Activities
Joint Accreditation criteria require that Interprofessional Continuing Education activities are planned by and for the healthcare team. For activities that are focused on multiple professions, the planning team should reflect the professions and credit types being targeted by the activity. For profession-specific activities, the planning team should reflect the target population to be served. 
Rigorous Standards for Educational Quality & Independence
Jointly accredited continuing education providers must meet rigorous standards for educational quality and independence – including the Standards for Integrity and Independence in Accredited Continuing Education. As a jointly accredited provider, our commitment is that healthcare teams receive education that is designed to be independent, free from commercial bias, based on valid content, and effective in improving the quality and safety of care delivered by the team.
You can learn more about Joint Accreditation by visiting their website.